Give Kids A Smile Day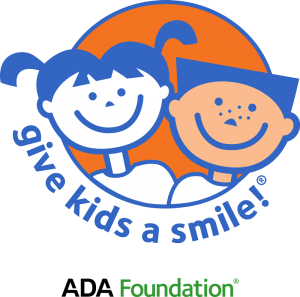 Our office participates annually in this program by having a day set aside to provide free dental care to children in family's with extreme financial need. Our last GKAS Day was held on Friday, February 5, 2016. If you know children, ages 3 – 12 years of age, in need of dental care or any organizations who assist with this population, spread the word: Our next GKAS Day will be held on Friday, March 10, 2017 from 9:00am – 4:00pm.  For more information or to schedule a child for this special day, please call our office at 913-631-2626.
Last year our office provided over $ 4,000.00 in dental services to children during our Give Kids A Smile day!  Help us reach and care for even more children this year!
---
Our Creating Healthy Young Smiles Program
In 2002, when then President Bush called for citizens to hold a Make a Difference Day, Dr. Robert Seaman and his wife, started a program called Creating Healthy Young Smiles (CHYS) to help provide dental care to children under 15 years of age who did not have the financial means to receive regular dental care. We have recently improved that program, to broaden the assistance available to include all family members.
This program is meant to help low income families by providing free or reduced cost dental services. Our office is not a "free" or "sliding scale clinic"—we are a general family dental office that is working to do our part in helping under-served children. Patients under this program make appointments just like all our patients and receive the same quality care and services that all our patients receive. Our program is designed to help those families who may not qualify for existing federal or state assistance programs.
---

Once you have completed the application, return it to our office by one of the following methods:
Please allow us a full week to review your application and determine if you qualify for the program and which level of assistance you can receive. If your child is in pain, we can usually review your application the same day, but you need to contact us to let us know the situation so that your application is rushed when we receive it. We may not be able to provide complete approval, if you are not able to provide all supporting documentation, but also have a "temporary approval" status we can provide in emergency situations.
---
Community Projects
Here at Seaman Family Dentistry, we also try to help out in other ways, here are some of the other community projects we have been involved in.
Food Drives for local food pantries.
The Adopt an Angel program through the Salvation Army.
Educational visits to elementary school classrooms.
Donations for charitable fundraising auctions.
Upcoming Community Projects
Currently, we do not have a project scheduled, when we do, you will find the information here.
If you wish to contact us about participating in a local community outreach program, please email Bennette, our office manager, Click Here