Teeth whitening or bleaching is a very popular and easy way to improve your smile. With minimal time and effort, years of coffee, soda, citrus, and tobacco staining can be erased simply by using a teeth whitening system. We invite you to come see our dentist if you are interested in receiving teeth whitening in Lenexa, Kansas.
At Seaman Family Dentistry we offer 3 types of teeth whitening:
At Home Teeth Whitening
In-Office Teeth Whitening
Internal Tooth Bleaching
Below is information about each type of teeth whitening / teeth bleaching service we perform so you can decide which option(s) works for you. Many patients utilize more than one type of teeth whitening solution.
At-Home Teeth Whitening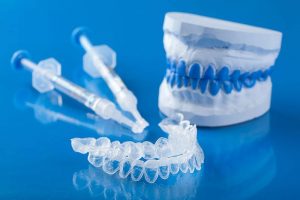 Dr. Robert Seaman offers custom-made trays and powerful whitening gel. You will need two appointments for this service. At the first visit, an impression is taken of the teeth (of each arch to be whitened). Between your appointments, a tray is made to custom fit each arch being treated. At your second visit, we will try-in your custom trays to ensure they fit properly and make any adjustments needed. You will be given your starter set of bleach gel and instructed on how to use the system at home.
You can either wear the trays during the day, for 30 – 45 minutes, or overnight. The active ingredient ceases to work within one hour, so the material will not harm your teeth if you wear them longer. Once you have achieved a shade you are pleased with, then utilize your trays and remaining material to maintain your shade, as often or infrequently as you prefer. Some patients touch up their smile weekly, while others monthly. The frequency needed depends on your habits and how they affect the color of your teeth—it is all up to you at this point. When you get low or run out of your initial bleaching gel, you can purchase refill sets of whitening gel at our office. Since some people tend to have greater sensitivity to teeth whitening, we have a lower strength gel available so that whitening is more comfortable for them.
In-Office Whitening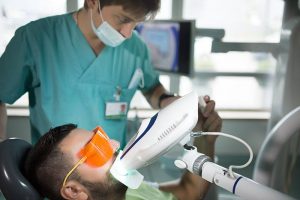 Our office utilizes two different products for in-office whitening treatments. You can choose from Zoom© or Boost© for your in-office treatment. Both of these in-office whitening services are a one-visit process, during which we apply the bleaching material to the teeth being treated, leave it on for a certain amount of time (with Zoom, a special light is used), and then remove the bleaching material. The visit takes approximately 1-2 hours, and you leave with a smile that is several shades whiter than when you arrived.
Whitening teeth does more for you than just change the shade of your teeth: it gives you a brighter, more youthful smile. As a result, many patients find they actually smile more! Once you have your whitening service under way, you can stop hiding your smile and start showing it off instead. Contact our office today to learn if teeth whitening is right for you!
Internal Tooth Bleaching
If you have a tooth which previously had root canal treatment completed and the tooth is now dark or darker than your other front teeth, this tooth can be bleached internally to lighten it. This type of discoloration cannot be fixed with At Home Whitening or In Office Whitening, because this is not happening on the surface of the tooth. The tooth is becoming darker because it is not a vital (living) tooth, the nerve of the tooth was removed during the root canal procedure and this also removed the blood supply to that tooth. Internal tooth bleaching is done by placing bleaching chemicals inside the tooth. It takes multiple visits (treatments) in most cases to lighten the tooth and it may never be quite as light as your other teeth, especially if you are currently whitening your other teeth. If you think you need this type of tooth bleaching, we urge you to come in an see Dr. Robert Seaman for a complimentary Smile Consult or discuss this with him at your next regular check-up and cleaning appointment.
---
If you are ready to start whitening your smile, give us a call and schedule an appointment at Seaman Family Dentistry in Lenexa, KS for the service you are interested in or for a complimentary Smile Consultation if you would like to discuss your options first. We look forward to hearing from you!