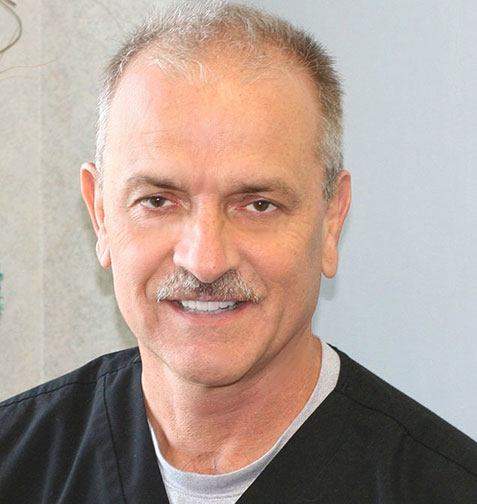 Meet Dr. Robert Seaman
Born in Vandalia, Illinois, Robert J. Seaman, Jr., DDS spent most of his childhood in Florissant, Missouri. He received a Bachelor of Arts degree in biology from the University of Missouri – Columbia in 1976, then enrolled in and graduated from the University of Missouri – Kansas City School of Dentistry, earning his Doctor of Dental Surgery degree in 1981. Dr. Seaman graduated with honors and was elected to Omicron Kappa Upsilon Dental Honor Society. Immediately following graduation in 1981, Dr. Seaman opened the doors to his dental practice. While he was building his practice, he was also an assistant Professor of Clinical Dentistry at UMKC Dental School, teaching in the Crown and Bridge Department from 1981 to 1990.
Dr. Seaman enjoys all aspects of general dentistry, with a special interest in crowns, bridges, and cosmetic related dentistry. He feels this is an artistic outlet for him—creating smiles.
He continually enhances his education with new and better procedures in crown and bridge, endodontics (root canals), orthodontics, and TMJ (jaw alignment) treatment to better serve all of his patients.
"It has always been my goal to provide as many services as possible to my patients, so they would not have to be referred all over town for dental care," he explained. "While there is a time to involve a specialist, most of a patient's needs can and should be provided by their family dentist – so this is what I have done through the years."
As a result, Dr. Seaman and his office, provide routine preventive and diagnostic services, periodontal (gum disease) care, fillings, crowns, fixed bridgework, removable dentures, fixed dentures, porcelain veneers, in-office and at-home whitening services, root canals, emergency care, bonding, non-surgical treatment for TMD (TMJ) conditions, restorations over implants, and even orthodontics—including appliance therapies, full braces (in metal and porcelain), and invisible (aligner therapy) braces.
Besides all he does to improve his patients' dental experiences, Dr. Seaman also has a large family to keep him busy. He and his wife have 6 grown children and 5 grandchildren, which is one of the reasons he understands how busy families can be and why it is so important to him to maintain an office schedule which is accommodating to both professionals and families.
Outside of the dental office, Dr. Seaman is an avid woodworker and received his Master Woodworker certification at Marc Adams School of Woodworking. He not only builds beautiful furniture and accents for his home and children, he also brings his talents into the office. Just recently, he added custom-built cabinets in the office, and some cement countertops and a cabinet for the new fish aquarium in the reception area. He is currently working on building new cabinets for each of the patient rooms, as well.
Services Provided:
Seaman Family Dentistry is pleased to offer you a full range of comprehensive dentistry in Lenexa, Kansas, such as:
We provide dental care for patients of all ages, including your spouse, parents, and children. Our office hours include evening and early morning availabilities so that you can see the dentist after a long workday or without missing school.
Our Dental Approach
Dr. Robert Seaman and our team pride ourselves on treating our patients as a valued dental family. We are committed to providing friendly, service-oriented dental care so that your needs always come first. When you visit Seaman Family Dentistry, you are treated to a personalized experience that accommodates all of your questions and concerns.
Helpful Links
If you are considering an appointment with Dr. Robert Seaman, you may be curious about our patient reviews, our financial information, and our paperwork process. You can find answers to all of those questions and more by clicking on the links below. You can also complete your paperwork in advance and schedule your first appointment!
What if I am unsure about coming to your office (or a new dentist in general)?
Most patients who are fearful of dentists in general typically try out a dentist whom they have been referred to by a close friend or family member. If this is not the situation or you have been referred to Dr. Robert Seaman but are still anxious about seeing someone new, we have two different options for you:
1) We can schedule you a meet & greet appointment, so you can have a chance to meet with Dr. Robert Seaman before you decide to schedule for actual services. The meet & greet is just a short 10-20-minute sit down with Dr. Robert Seaman to talk with him in person and get a feel for him, the office, and staff. No services are rendered at this visit, not even an examination.
2) We can schedule an initial diagnostic (new patient) appointment that only includes an initial examination, X-rays, and an oral hygiene evaluation before you have even a cleaning done. The initial diagnostic appointment mentioned is pretty much like a routine preventive checkup: the assistant will take any X-rays you need, you will see the hygienist to check your oral hygiene status (no cleaning is done), and then you will see Dr. Robert Seaman for a full examination. You will then receive a treatment plan (if anything is needed/wanted) and a financial consultation if you have a treatment plan.
Most new patients opt for the initial diagnostic appointment because they not only get to meet Dr. Robert Seaman and staff, but they also have the opportunity to see what, if any, services they need and/or discuss optional services they are interested in. Our office does not use nitrous oxide or sedation; we feel that it is better for the patient to receive care in a comfortable, friendly manner, so that even if you start out somewhat fearful, your fears dissipate as you realize dental care does not have to be painful. If you are ready to try us out, give us a call at 913-353-4095 and let us which visit you would like to start with.
If you have questions about any of the above information, please do not hesitate to contact our office. We are always happy to provide you with additional information.